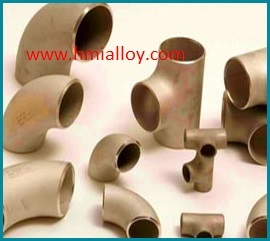 Product Description
Copper Nickel 70/30 ASTM B171 Buttweld Fittings | Cupro Nickel 70/30 UNS C71500 Buttweld Fittings | Cu-Ni 70/30 ASTM B171 &
Cu-Ni 70/30 ASTM B122 Buttweld Fittings Manufacturer.
Hitesh Metal (India

)
is one of the dominating the Manufacturers, Exporters and Supplier of high quality 70/30 Cu-Ni Buttweld Fittings. Hitesh Metal (India) likewise offers a complete scope of a wide range of evaluations like Cu-Ni 90/10 and Cu-Ni 70/30 Buttweld Fittings.
Our scope of 70/30 Cu-Ni Buttweld Fittings contains Seamless and Welded Long Radius and Short Radius Elbows, Equal Tee, Concentric Reducer, Reducing Elbow, Unequal Tee, Crosses, Eccentric Reducers and so forth and it has found a respectful place in industry fot it's product.
These 70/30 Cu-Ni Buttweld Fittings are accessible in various dimensions, size, grades and thickness according to the customers requirments. These are normally utilized as a part of different application industry.
Specification of Buttweld Fittings
Types of Buttweld Fittings
Hitesh Metal (India) exports Copper Nickel Alloy 70/30 Buttweld Fittings to countries like UAE, Bahrain, Italy, Indonesia, Malaysia, United States, Mexico, Chine, Brazil, Peru, Nigeria, Kuwait, Jordan, Dubai, Thailand (Bangkok), Venezuela, Iran, Germany, UK, Canada, Russia, Turkey, Australia, New Zealand, Sri Lanka, Vietnam, South Africa, Kazakhstan & Saudi Arabia.
You can feel free to contact Hitesh Metal (India) if you have any inquiries related to Copper Nickel Alloy 70/30 Buttweld Fittings do get back to us on :- ·Bldg No-59/61, Jetha Bhimji Building. 2n Floor Office No.9 1st Phathan, Start 4th Kumbharwara, Mumbai - 400004, Maharashtra, ( India ) Phone :+91 9619557302,+ 91-22-67496080, 66336080
Contact Us
Bldg No-59/61, Jetha Bhimji Building. 2n Floor Office No.9 1st Phathan, Start 4th Kumbharwara, Mumbai, Maharashtra, 400004, India
Phone :+918068095355